The nominations for this year's BBC Sports Personality of the Year have been announced and viewers have a very tough task in selecting the top sports person after a fantastic year of Sport.
Stars from the Olympics, the Paralympics, Cycling, Golf and Tennis have all achieved great things this year, so how are we expected to choose between them?
In any normal year Bradley Wiggins would be the natural choice, having won the Tour De France, but then so would Andy Murray for being the first British man to win a Tennis Grand Slam for 76 years. Then again you have Rory McIlroy, reaching world number one in golf this year.
It's very easy to build a compelling case for each of the nominations, so what will be the deciding factor?
It's a similar scenario in the work place when job interviews are held, decisions are made on promotions and so on. You have a number of candidates on your short list and they all tend to be of similar ability, experience and intelligence. What makes the difference on how to get promoted?
There are 3 areas that help you get promoted; your ability to do the job, your exposure within the organisation (how widely known you are, how much exposure you have had to the role and other areas of the business) and your image (how you are viewed by the key decision makers, your peers and colleagues in general).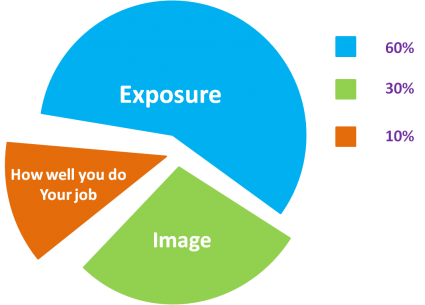 Research has shown that your ability to do the job only has a small part to play in getting you promoted, largely because this is taken as a given, whereas your exposure to the role, other departments and the company at large has a major part to play in the decision making process. How well you build and manage relationships is an important factor, as it will help open doors for you and allow you to become involved in various parts of the business and at the same time will improve your image. Coaches are frequently used to help people develop strategies to improve their exposure and image within their organisation, with work often focussed on improving their emotional intelligence to help them achieve their goals.
With the BBC award we have 12 sports people who have all achieved greatness this year and the public will vote based on a variety of factors such their achievements, their personal preference for the sports involved and their perceptions of the individuals. The latter will come down to the amount of exposure they have had in the press, their image and personality.
The four who seem to have had the most exposure in the media this year have been Mo Farah, Jessica Ennis, Andy Murray and Bradley Wiggins, which should put them at the top of the voting.  I would put Mo at the front of the pack for his smile and trademark Mobot.
If you don't want to use a coach to help improve your exposure perhaps the alternative is to develop your own "Mobot" instead?
Why not tweet us @coachpotatoes and tell us who you think will win (and why) Sports Personality of the Year?