"You must take personal responsibility. You cannot change the circumstances, the seasons, or the wind, but you can change yourself. That is something you have charge of." Jim Rohn

Studies have shown that for more than 75 percent of employees, dealing with their immediate boss is the most stressful part of the job. In fact a 2009 Swedish study tracking 3,122 men for ten years found that those with bad bosses suffered 20 to 40 percent more heart attacks than those with good bosses.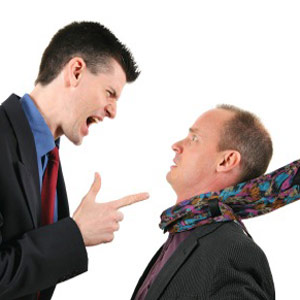 Leaders matter, because whether or not they know it, their followers monitor, magnify, and often mimic their actions and behaviours. The actions, attitudes and behaviour of Leaders have a dramatic influence on the culture and performance of the organisations they operate in and their impact is often under estimated by the majority of leaders.
Having said that evidence shows that Leaders rarely account for more than 15% of the gap between good and bad company performanc, although they often get more than 50% of the credit and blame.
If you are a Leader, this is the way it goes; make the best of it. If you claim that you don't have much influence over what happens to the team or company you lead, your people will lose confidence in you. Leaders who blame outside forces for their troubles come across as insincere and powerless. By refusing to take responsibility, they implicitly raise a damning question: "If you didn't have the power to break it, how can you have the power to fix it?"
The public also sees a boss's refusal to accept responsibility as a sign that nothing has been learned from the errors.
Watching and listening to Arsene Wenger over the last month, as Arsenal's season has yet again fallen apart, has been a demonstration of this. Instead of him and the team taking responsibility for dropping the points which effectively put them out of the race for the Premier League title, his ire has been directed at the match officials, who have given decisions against Arsenal, and at their opponents who have prevented Arsenal from playing their football.
Here's what he had to say  after Arsenal drew against Liverpool, despite taking the lead some two minutes before the end of the game:
"We conceded a penalty after 11 minutes and the extra time was only eight minutes, I don't know where this additional time came from," said Wenger.
"The referee has not explained anything to me but I know it was no penalty. Lucas played in an intelligent way.
He stopped his [Eboué] runs, Eboué wanted to go to the ball and he stopped him and referee said nothing. What can you do about it?"
So, in one short quote, he has blamed the referee for playing more time than he thought was warranted, blamed the referee for giving a penalty, he didn't believe was a penalty, and blamed the Liverpool player for "cheating" to stop the Arsenal player reaching the ball thus winning the penalty for Liverpool.
After a goalless draw against Blackburn Rovers in March Wenger suggested that the fixture list is skewed in favour of Manchester United because of how often his team are asked to play after their main rivals in the run-in to the Premier League.
Of course it might be a different story in private, but in public Wenger is very quick to blame anyone but himself and the team for not achieving the success many believe his style of football deserves. In his latest comments he has been pointing out that winning isn't actually the most important goal, with player development and regularly finishing in the top four of the league more than satisfactory.
This is basically an admission of defeat and a poor message to send to his team. It has also lead to his Captain, Cesc Fabregas, speaking out:
"If you went to Spain and said to Pep Guardiola, Jose Mourinho or Unai Emery that they would have three years without winning a trophy, it would be obvious they would not continue," Fabregas was quoted as saying.
Fabregas also appeared to give his verdict on Wenger's policy of developing young players instead of making big-name signings, and how that has cost them winning trophies. "A decision has to be made: to go out and win or develop players."
With his apparent inability to take responsibility for Arsenal's failure to win a trophy for the last 6 years, Wenger is in danger of tarnishing his reputation and he and the club have some important decisions to make in the summer.
The first step will involve identifying and agreeing the goals for the club. If they are happy aiming for top 4 and developing the young players then perhaps they won't need to change too much, although a regular place in the top 4 will be under threat as teams around them strengthen and develop a greater winning mentality.
If the goal is to win trophies then there will need to be a change in mentality by Wenger. He needs to find a way to bring a more ruthless streak to his team and while this can be helped by bringing in experienced players he also needs to change his attitude and beliefs.
One of the most important factors here is him making sure the roles and responsibilities of the individuals in his team are fully understand and that they are accepted and they know the consequences should they exceed them, meet them or indeed fall short (meet or exceed the success and acclaim they desire, or perhaps being dropped should they fall below the standards required).
With himself this will mean him focussing on what he can influence and change rather than constantly blaming outside influences which are not within his area of control. At the moment his constant public blaming of officials and opponents is giving his players an excuse to hide behind and an opportunity to evade responsibility for results.
Wenger would do well to heed the words of Michael Jordan, who believes success is achieved by taking responsibility for yourself:
"Some people want it to happen, some wish it would happen, others make it happen"
Or even OJ Simpson during his sports career:
 
"The day you take complete responsibility for yourself, the day you stop making any excuses, that's the day you start to the top."
How do you, or your boss, demonstrate leadership qualities?
How would your people describe you as a leader?
Do you and your people take responsibility for outcomes or are people quick to blame others when things go wrong?
If it's the latter what are you going to do about it?