Recent research has suggested that poor management skills in local government is resulting in more than two thirds of the average working day being wasted by junior staff, with another survey revealing that trust in managers across business in general is falling. Yet another survey indicates that just 14% of people interviewed felt their managers excelled at people management skills, whereas 44% of the managers involved in the research believed they had excellent management capability.
At the core of a good people manager is emotional intelligence; good managers understand themselves and their own strengths and weaknesses. It would appear in the third survey that the managers interviewed do not have a realistic understanding of their strengths and weaknesses. Successful managers have the ability to understand others and to interpret the emotional and non verbal behaviour correctly which then provides them with the platform to communicate well with their people. It is interesting that in the research carried out that managers were observed either avoiding discussions about poor performance or were extremely uncomfortable dealing with it.
Effective leadership has many facets but at the centre of it all is communication. Leaders need to be able to share a vision and show how the efforts of others can help achieve that shared vision. They need to listen and they have to be willing to have "tough conversations".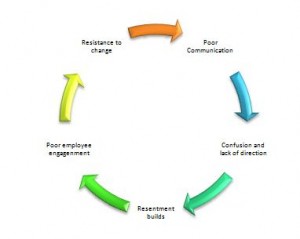 People enjoy receiving praise and recognition for a job well done, but first of all they need to know what a good job looks like. If poor perfornance is not being discussed with them, how will they know if they are doing something well? The role of a manger should include spelling out what is expected of people, what the standards of acceptable performance are and the consequences of both meeting and failing to meet those standards. People like to know where they stand, they want to know whether they are doing a good job or not. A manager is failing in their duty if they don't give appropriate feedback at regular intervals.
Why do managers fail to lead as well as they might? The Chartered Management Institute suggests this might be due to years of inadequate training and development and the number of people who "reluctantly fall into management positions". One telling statistic is that 63% had no management training before taking up a managerial post.
Ruth Spellman, chief executive of CMI, said: "We're desperately short of good leaders in this country – just look at how many FTSE 100 companies have sourced CEOs from abroad and how many Premier League clubs have foreign managers. We're crying out for much-needed home-grown leadership talent and it's frustrating that employers are failing to capitalise on the dormant leadership skills that their employees don't yet realise they have."